CLL successfully completed the impressive $100M St Stephens Holy Apartments project in Parnell, consisting of 29 apartments with a split-level basement providing parking for 64 vehicles. Our comprehensive scope of work included basement construction, lateral support, foundation piles (188 perimeter piles and 28 internal piles), crane piles, incline soil nails, capping beams, and bulk earthwork excavation.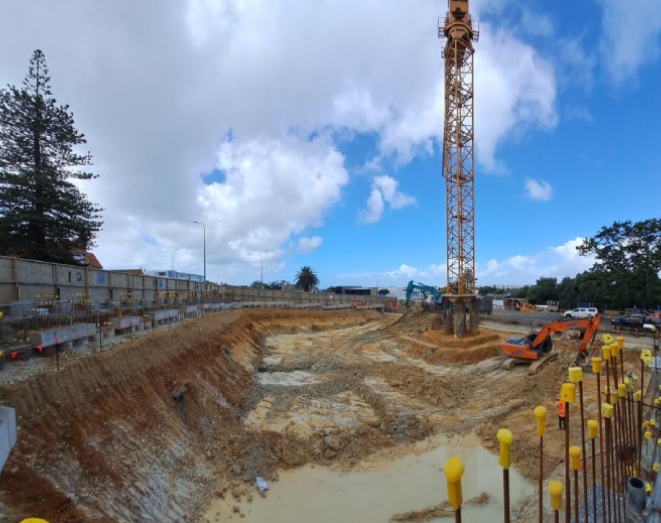 The project required the full involvement of CLL, with a dedicated on-site engineer, foreman, two piling crews, a crane crew, boiler maker crew, and earthworks personnel. Despite facing a setback of two months due to obtaining the Auckland building consent, the team worked diligently to ensure precise on-time completion.
To provide strong lateral support in the basement, we used steel pipes from China. These pipes have a tube and clutch system that enhances stability and prevents water from entering. They are pre-manufactured spiral welded steel pipes promoted exclusively by CLL.
We achieved complete water tightness by performing on-site welding. The foundation piles, made of reinforced concrete with a deep cut-off, were placed at different depths, some reaching 25 meters below ground level. CLL will handle the welding and decommissioning of anchors after Clearwater finishes construction.
To maintain rig stability, we built a specialized piling platform designed to accommodate the equipment's weight, considering the varying ground conditions. This platform was crucial to meet the client's requirement for a tower crane. Four piles were used as a stable base to effectively support the crane's operation.
During the construction process, temporary soil nails were implemented to secure the western wall. These soil nails will be removed once the load transfer from the wall to the permanent structure is successfully completed.
We were proud of our ability to maintain strict 100% compliance with environmental regulations throughout the project. Dirty water was processed on-site using a water clarifyer, and Clearwater Construction provided a well-planned access and traffic management system including a full-time gatekeeper, prescribed routes for trucks, and upholding cleanliness standards by washing the wheels of every departing truck. Notably, no complaints were received regarding our operations.
An additional highlight of the project was the designated laydown area adjacent to the site, which facilitated construction efficiency. This area, connected to the client's parking lot, served as a construction yard, offering ample storage for steel, containers, offices, and changing rooms. This unique feature significantly enhanced the organization of the project and streamlined operations, setting it apart from other CBD projects.